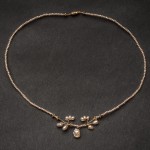 We were very fortunate to be contacted in August by a local resident who was going to get married in October. She was looking for something really special that used fresh water pearls and wire (click photos for enlargement). We met with the customer at our home where we could show her the collection of beads Marie Antoinette had in stock and to discuss the design and quantity the customer wanted.
Our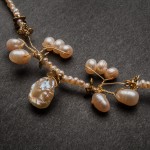 customer wanted two sets (fresh water pearl earrings and necklace), one for her to wear and one for her made of honor. Together, the two of them reviewed some ideas and put together a list of supplies needed. Each of them looked for the right beads and after a bunch of e-mails and a few weeks they got together again at our house to discuss their findings.
Time was beginning to run out but once we had all the supplies, Marie Antoinette went to work on the sets, showing the client periodic process on the first one so she could go "full-steam ahead" on the second. Since this client was in our area, she could come and see the work in person and I think that meant a lot to her.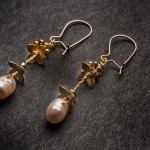 Designing custom wedding jewelry is a joint process. As a graphic designer myself, I watched as the two of them craft their ideas together to create a beautiful piece of jewelry. This isn't to say that two heads are better than one but having the customer involved was an important step in the process. The process took two months to complete but the customer was very happy with the jewelry. I think it's important for the customer to get involved because it gives them ownership that they might not otherwise have and more importantly, a true one of a kind piece of art can be made that will be cherished forever.

Mark Gilvey is husband to Marie Antoinette and takes care of the website, advertising, and helps out at craft shows. He speicaizes in commercial photography, branding, and web design/SEO. As owner of Mark Gilvey Creative, his goal is to help clients find creative visual solutions to improve their public image in print and online. Mark also has a website where his personal fine art photography can be seen.