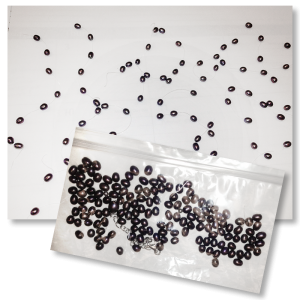 I thought I would write about a recent necklace my wife made but it's more to it than just that—it's also the story of a relationship between CorseCrafts and a new client and how together we all took ownership of the creation of something beautiful. Throughout the article you will see photos, click to see an enlargement.
It started in the middle of May; we received a phone call from a pleasant sounding lady who had a grey freshwater pearl necklace that someone else had made and it had come apart. This wasn't the first time it had come apart either. After the first time, she had it restrung in a way that made some of the beads look like they were floating; illusion-like and she really had a passion for this affect. So, the necklace came apart again and she needed some help with it so I told Marie Antoinette about the voice-mail that the lady, who I will refer to as Mrs. H, left and Marie said she would be happy to help her.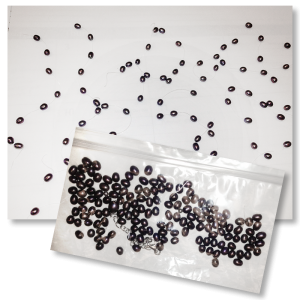 You might think that it's just an easy fix to put the beads back on the necklace but we really had no idea what Mrs. H had to work with. As it turns out, she wanted to remove all the beads and restring it so I wrote her back and told her we were interested and she sent me some photos she had along with a sketch of what she wanted the final piece to look like.
After reviewing the photographs, we decided it would be a good project to work on. We gave Mrs. H a rough estimate but it really depended on the condition of the necklace and its parts. Mrs. H sent us all the pieces and Marie Antoinette began to review everything more closely. All the beads were glued to the wire which was brittle. Some of the beads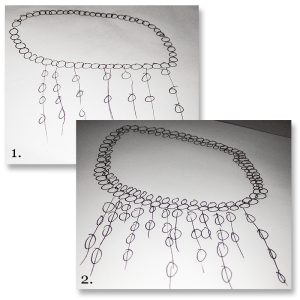 came off easily and others were not going to budge.
We looked at the first sketch that was sent to us but had some concern with there being enough usable beads to construct it—then she sent us a second sketch which was a bit more complex, had even more beads on it but it did make the piece start to come to more of a "fuller looking" design but we were still concerned with having enough beads because they were so difficult to remove. Mrs. H mentioned that she had some white freshwater pearls on an older necklace that we could add to it and mailed them to us as well.
Mrs. H was completely open to whatever ideas Marie Antoinette had and understood that the estimate could change based on all of the different ideas "we" came up with. I say "we" because this was really a joint project between Marie Antoinette, myself and Mrs. H. I wanted to see this necklace come back to life based on the ideas the two of them had trying to keep the main design looking like what Mrs. H wanted but also keeping her aware that the ideas they came up with could vary the final price but I thought it would be worth it.
Marie Antoinette had a very difficult time with removing the beads from the wire. Some of them just would not budge. Luckily she was able to remove most all of them but there were still a few left over. The photo below shows a nice little bowl of all the usable beads that came off the wire.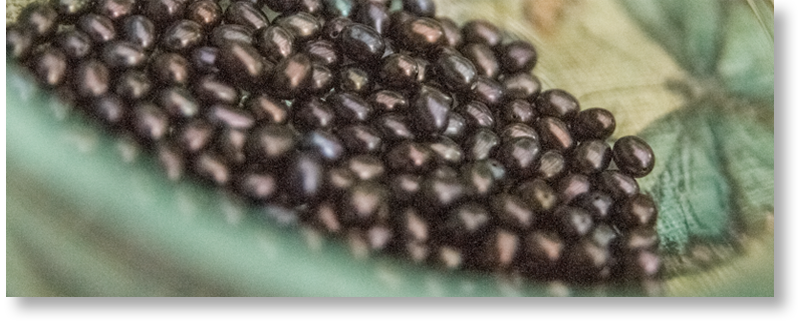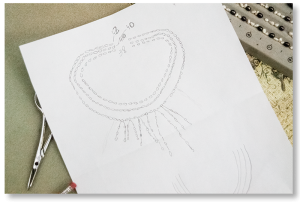 We received the white freshwater pearls and Marie Antoinette made a sketch of her own that added one more strand to the design using up all the white and most of the grey fresh water pearls. Marie Antoinette began to lay out the beads on a board. This was an important step because we had several discussions with Mrs. H at this point and it was time to show the life that was developing in her "new" custom necklace.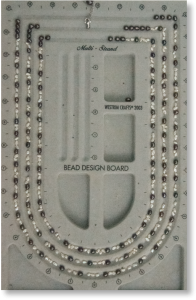 My background is in professional photography. I didn't want to send Mrs. H a camera phone photo of her custom necklace that was being made for her. I think she deserved better than that. I took a photo directly over top the bead board which I color balanced and sharpened before sending it to her. This was turning out to be a magnificent necklace and it's creation needed to be documented with care. A photo taken with a mobile phone can only give someone an "idea" of what is happening, a true photograph makes it alive to them.
Mrs. H liked what she was seeing. I told her what a difficult time Marie Antoinette was having with some of the beads and that there would probably be some left over. This opened a door of opportunity to make something else from the remaining beads.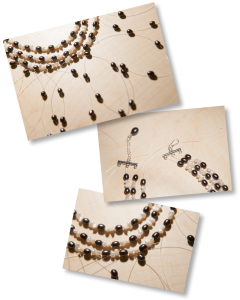 With Mrs. H's approval, Marie Antoinette began to string the beads into place but not permanently. She just wanted to get them to a final stage before "tying the knot" so to speak.
"This necklace is amazing! Yes, yes, please finish it up! I can't wait to get it back!"
And so Marie Antoinette finished the necklace and I photographed it. Below are photos I took of the final completed necklace. Click for an enlargment.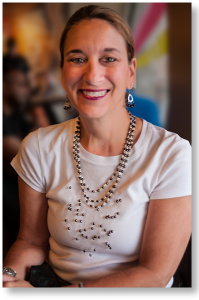 So here it is, the middle of July, two months later and the necklace is finished. I'm really proud of the work that Marie Antoinette did and the relationship we built with Mrs. H throughout the construction process. She didn't just give us something that was broken and ask us to simply fix it; she opened up to the possibility that it could become something better. Mrs. H had a hand in it's design when she gave us sketches of what she would like to have; this gave her part ownership in it's creation.
I only wish Marie Antoinette could have been with me the day I hand delivered the necklace to Mrs. H. I think the photo tells it all.
To sum it all up, CorseCrafts was able to bring a broken valuable to life with a new look; working with the client in a professional manner we were able to create a new piece, at a price the client expected but was comfortable with but more than that, a new relationship was forged as well.