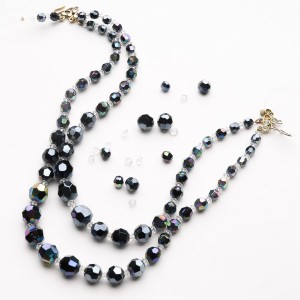 My wife, (jewelry designer Marie Gilvey) had a pleasant surprise arrive in our mailbox the other day. It was a broken necklace from a repeat customer. Marie Antoinette was delighted to receive the necklace and began to look it over for problems.
The first thing she does is look over all of the pieces to check for issues such as:
how many loose parts there are
existing flaws such as scratches and cracks
the type of wire used to hold the necklace together
they type of clasp
any obvious missing parts
The next step in this jewelry repair is to decide if it would be better to repair it or redesign it. It was a very nice necklace and Marie Antoinette felt it would be better to restore it. The clasps were both missing some parts and the wire was pretty brittle. Below are photos of the current state of the broken necklace; click any image for an enlargement. In my next post, we'll take a look at the final repair.
Follow Marie Antoinette on our Facebook Fan page for updates on this project.

Mark Gilvey is husband to Marie Antoinette and takes care of the website, advertising, and helps out at craft shows. He speicaizes in commercial photography, branding, and web design/SEO. As owner of Mark Gilvey Creative, his goal is to help clients find creative visual solutions to improve their public image in print and online. Mark also has a website where his personal fine art photography can be seen.