Everyone thought the cold weather was finally gone with the few scattered days of warmth that lead up to the craft show on Saturday, March 26, 2011. As it turned out, the morning was quite chilly as vendors lined up to enter into Gar-Field Senior High School to setup for the annual Spring Craft Show sponsored by the PTSO (Parent Teacher Student Organization). Vendors set up for a day of fun and artistic showmanship around what I affectionately call "The Loop" that is the lower level of the school.
There was a light but steady stream of shoppers throughout the day with a peak period around lunch time. There was no shortage of artisans displaying all sorts of beautiful creations. Some of their work was strictly for the viewers' appreciation and others added a spice of art to regular everyday objects to make daily activities like eating, from a hand turned pottery plate, or drinking, from a hand painted wine glass, more of an art than just a daily routine.
I caught up with Veronika Kolomichuk (the organizer of the Spring Craft Show) a few days after the show and asked her a few questions:
 CC: How was the turnout this year in your eyes?
"The turn out was fair, we look to improve each year and I think we did that this year. We counted entrances at the doors and had over 600 in attendance, probably closer to seven-hundred since we didn't start counting until 10am. The winter show gets 900-1000 shoppers and our goal is to get closer and closer to that mark each year."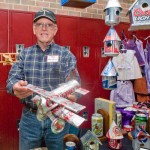 CC: How many vendors did you have?
"We had 90 vendors this year (as compared to 75 in 2010)."
CC: Can you tell me about the prize drawings you did? What did you give away to the lucky vendor and customer?
"We had two drawings. One for the vendors,  for a $50 Michaels gift card provided by the PTSO. It was won by the Wood and Can Man, Jim Harrison. The other drawings were for customers or anyone who purchased raffle tickets. The vendors donated items for these drawings and the proceeds went toward Student Scholarships that the PTSO distributes each year. Some of the items were LaVieve Skin Care, Isle of Candles Soy Lotion Bar, A Wood Pen, Homemade Dog Biscuits, A $75 value Purse from Miche Bags just to name a few."
It was a great show and CorseCrafts will surely be there again in Spring 2012 offering our latest bead jewelry designs. But wait! You don't have to wait until next Spring to go to another craft show at Gar-Field High School; did you know that Gar-Field has two craft shows a year? The next one, the Holiday Craft Show will be in the fall, 2011. We'll see you there.

Mark Gilvey is husband to Marie Antoinette and takes care of the website, advertising, and helps out at craft shows. He speicaizes in commercial photography, branding, and web design/SEO. As owner of Mark Gilvey Creative, his goal is to help clients find creative visual solutions to improve their public image in print and online. Mark also has a website where his personal fine art photography can be seen.