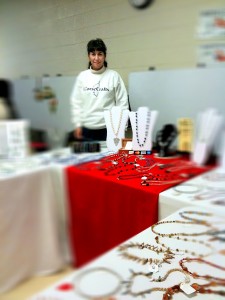 There was a great turnout at Fox Mill Elementary School in Herndon, Virginia for their 2011 Holiday Craft Show. Unlike last year when there was a sudden snow storm, this year was nice and sunny. Many people came out to the show but not so many that it made it difficult for them to look at all the vendors had to offer and there were some very unique offerings including one vendor that had hand painted shoes and other things.
CorseCrafts was very fortunate to have attended this year as the event becomes more and more crowded every year. Customers enjoyed a special $5 discount on bead jewelry purchases of $25 or more. One customer purchased 3 items!
Next weekend, Saturday, December 10th, will mark our last craft show for the 2012 year that we will participate in. Please join us along with about one hundred other vendors as we help make someone's Christmas wish come true at Gar-Field Senior High School in Woodbridge, Virginia.