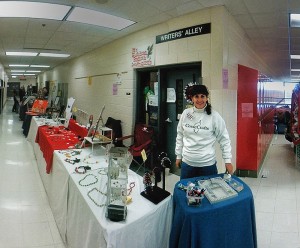 We had a spot that appeared to us to be in the farthest corner in the back behind everything but it was anything but that! I think we had just as much traffic come by as anyone else did.
A couple of customers just loved Marie Antoinette's semi-precious stone bead necklaces but wanted to know if their selection could be altered a little; no problem! Marie Antoinette made a couple of changes and each of the customers necklaces and they were happy as can be. We always offer the option of making a piece of jewelry longer or shorter or if within reason, other alterations that make each piece a one of a kind treasure.
The Brooke Point High School Dance Team Craft Show was a great event and we've already reserved our space for next year.